Overview
Founded in 2011, Piilo is a privately owned software company focused on innovating People Management and Human Resources for small and medium size businesses worldwide through cloud computing and mobility. Piilo makes human resources easy for all employees, not only for HR professionals. Piilo software is focused on business owners, operational line managers and staff. Piilo software reduces operational costs and risk of businesses across industries while providing practical and affordable solutions to increase employee productivity. Piilo is planning to release more than 30 modules in total with translation in 10 languages. Piilo will market its software across 35 countries and 10 geographical regions.
Management
Phil Lötter, Piilo's CEO and Nolan Daniel, company's Technical Director are serial entrepreneurs with years of experience in business management, IT, HR, business consulting, business strategy, process engineering, business change and startups.
News and Updates
On October 24th at DEMO Conference Piilo formally announced its product suite and started offering early access to qualified prospects across various countries.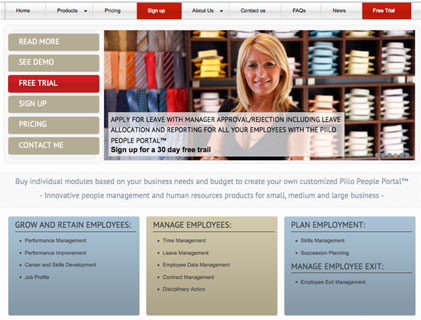 Founder's Message
►
Phil Lotter presenting 'Piilo'
at Demo Africa 2012